Military Brats Registry Celebrates 20 Years Online
April 24, 2017, marks the beginning of the 20th year for the Military Brats Registry.
The Military Brats Registry was established April 24, 1997. On our first day online we had 300 members.  As of this writing, we are at 86,309 and growing every day.  Thousands have been finding and reconnecting with their friends. MBR was responsible for introducing the dandelion as the official flower of Military Brats.  The complete history is available at the Military Brats Registry.  We have been a longtime supporter of Operation Footlocker, the Military Brat Mobile Museum which is still hosted on our website in a cooperative effort with the Museum of the American Military Family.  MAMF has been doing an excellent job of sending the footlockers around the USA to various gatherings.  Recently we teamed up with them to present a series of podcasts to show "what's inside the box."  These are hosted on MilitaryBratsInc.org, our non-profit organization website.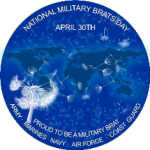 We also spearheaded the National Military Brats Day Initiative which accomplished the first goal in 2016, and raised the funds needed to gain a permanent place on the National Day Calendar on April 30.  Another current project is the Veterans Relief Fund that supports veterans who have short term, immediate needs.  Along with that, we are currently promoting the "22 cents a day for 22 days" plan to raise funds to assist veterans with PTSD.  22 veterans a day commit suicide, and this effort attempts through very small donations to put meaning behind the phrase, "Support Our Troops."
I need to tell you that the Military Brats Registry and Military Brats, Inc. are supported by items sold at TheBratStore.com, advertisers, and donations.
Marc Curtis
Creator/Webmaster
Military Brats Registry