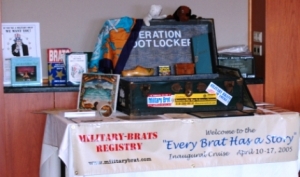 Military Brats, Inc and Museum of the American Military Family (MAMF) have teamed up for a series of short podcasts highlighting the contents in our footlockers.  
Operation Footlocker
appears at events all across the USA. However, we know that not everyone has the opportunity to view our Mobile Military Brat Museum.  So, we'll be presenting
"What's inside the Box"
previews of items that are likely to bring back memories of your experience growing up military.  Join us on the
Operation Footlocker Podcasts
page, or subscribe on
Soundcloud
.  For more information about Operation Footlocker, visit
OperationFootlocker.com
.
Operation Footlocker is a collaborative partnership between Military Brats, Inc. and Museum of the American Military Family