If I say "I love you" but my actions don't show it,
what would you think? If I say "I support the troops" but my actions don't show it…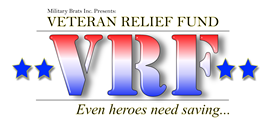 The Veteran Relief Fund project from Military Brats Inc at http://militarybratsinc.org (a 501(c)(3) non-profit) is designed to help veterans with urgent needs. This could be food, rent, car payment, or anything that could ease their level of stress.
Unfortunately, our funds are depleted. Currently we have more than 100 requests for assistance but can't help them.
DW wrote: I was in New Carrollton, MD doing work 3 weeks ago…the day before the last day of work, the transmission in my truck went out.  This is my work truck, the means in which I survive, and maintain myself…I've been living and sleeping in the street for the last 14 days now.
IG wrote: I'm a veteran seeking emergency assistance. My lights have been disconnected, and I have a wife an four children.
DS wrote: I am a father of two. My daughter is 3 years and my son is 5 years old with Autism. I am currently unemployed due to a back injury and depression connected to service.
MC wrote: I am a single mother and Army Disabled Retired Veteran residing in Arizona. I recently lost my employment due to health issues and have been struggling through a financial hardship in lieu of losing my employment. I am needing assistance with living expenses such as gas to look for employment.
Many assistance programs refer veterans to us to see if we can help. We can't, unless "support our troops" means something to you.
Will you do your part? For more information visit http://MilitaryBratsInc.org/veteran-relief-fund/. Donate by PayPal at donations@militarybratsinc.org
Thank you.